VideForex runs on a bespoke platform, so if you are looking for someting out of the ordinary you should definitely give VideFoex a try. In addition to forex and cryptocurrency trading, you can also trade in CFD and binary options at VideForex.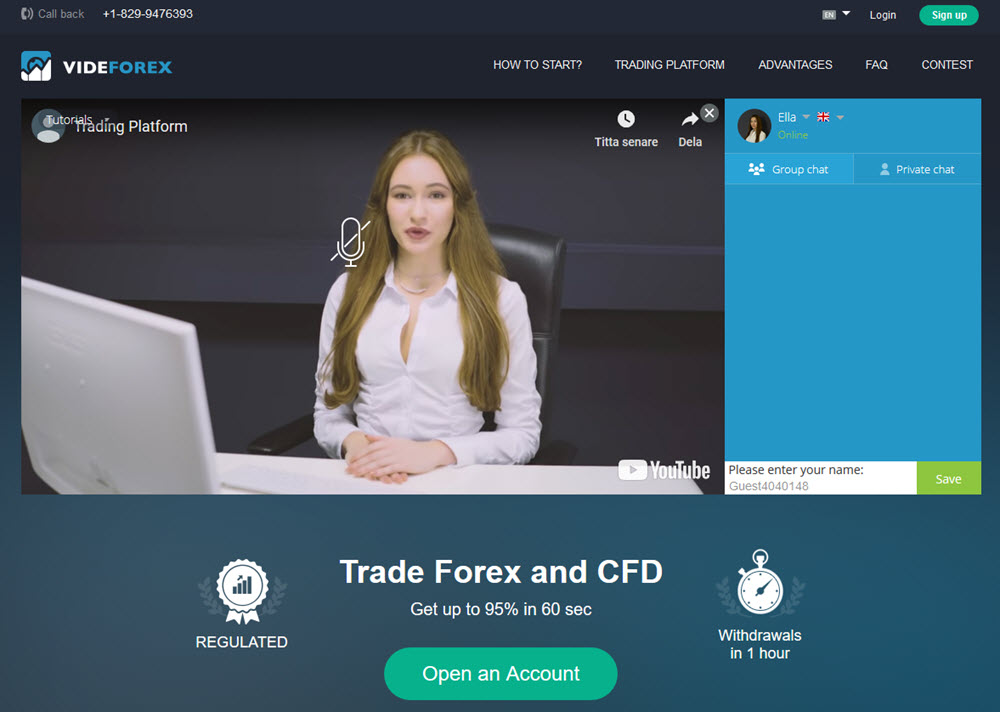 VideForex was launched in 2017 and is thus a fairly new edition to the trading world online, but it is run by the experienced team behind BinaryMate.
VideForex only offer web-browser trading; there is no downloadable client for trading.
Jurisdiction, etc
If you want a broker headquartered in one of the major well-known jurisdictions (such as the European Union or the USA), VideForex is not your best choice.
VideForex have a license through the Finance Group Corp, a company headquartered in Vanuatu, a South Pacific Ocean nation. Notably, the Forex, CFD and binary options broking part are instead owned by Vide Projects Ltd, a company headquartered in the Seychelles, an island nation in the Indian Ocean.
Short facts about Vide Forex
Traded instruments: Forex, Cryptocurrency, CFD, Binary Options
Welcome bonus: 100% bonus on first deposit
Demo account available: Yes
Smallest deposit: 250 USD
Smallest trade post: 1 USD
MT4 integration: No
Mobile apps: No
Auto trading support: No
Trade signal service: No
Leveraged trading available: Yes
Islamic account available: No
Is leverage availabe at VideForex?
Yes, VideForex does offer leveraged trading. This means that you can borrow money from VideForex to carry out trades.
Leveraged trading is risky, because you can lose much more than the money you have in your account.
The default maximium leverage at VideForex is 1:100, which means that if you are risking $1 of the money in your account you can borrow $100 from VideForex for the trade.
Important: The commission for certain leveraged positions is considerably higher than for un-leveraged ones. You can for instance be required to pay up to 5% commission for a leveraged CFD cryptocurrency position that would cost 1% – 2.5% without the leverage.
The bespoke VideForex.com trading platform
Many forex brokers online rely on the MetaTrader 4 (MT4) platform, but VideForex has instead opted for a unique bespoke platform tailored to their own specific requirments and preferences. If you are used to MT4 it may therefore take a little longer to get started with VideForex than with a MT4-broker, but it is well worth the effort and it is not difficult at all. My tip is that you set up a demo account with VideForex to play around a bit with play-money on the platform – that is a great way of quickly learning how it works and see if you like it.
Social trading
VideForex offers social trading, also known as copy trading. You can use it to copy other traders who have elected to display their trading.
Account types
Bronze account
A mimimum deposit ($250) is enough to get a bronze account. This is the basic type of account at VideForex.
Silver account
You need to deposit at least $1,000 to get a silver account. With a silver account, you get a personal success manager and access to a master class web session.
Gold account
A deposit of at least $3,000 is required to get a gold account. Gold account holders get the benefits of a silver account, plus special gold features, such as a pre-paid Swiss card.
Can I make a demo account?
Yes, you can make a demo account at VideForex and use it to trade with play-money. It's a great way to get to know the platform and try various trading strategies without risking any real money.
Transactions
Examples of transaction methods accepted by VideForex:
VISA
MasterCard
Neteller
Skrill
Perfect Money
You can also deposit four different cryptocurrencies: Bitcoin, Altcoin, Litecoin, and Ether (Ethereum).
Customer support
There is no phone support.
If you need to get in contact with the Vide Projects Ltd office, you can call 849 937 0843 (United States) and 61 8 5550 7288 (Australia).
Miscellaneus information
VideForex reserves the rigth to charge you a 0.07% swap fee if you elect to hold the position overnight. The fee is calculated based on the face value of the open position.
VideForex arranges trading contests. There is for instance a weekly contest with $20,000 in the prize pot.
Since there is no downloadable platform, add-ons developed for such platforms will not work. This includes Forex Expert Advisors and many other tools for technical trading.