Trading212 was created with mobile traders in mind. You can trade in forex, cryptocurrencies, stocks, commodities, indices, and CFD directly on your mobile device. There are over 1800 tradable assets to chose among, including 150+ forex pairs.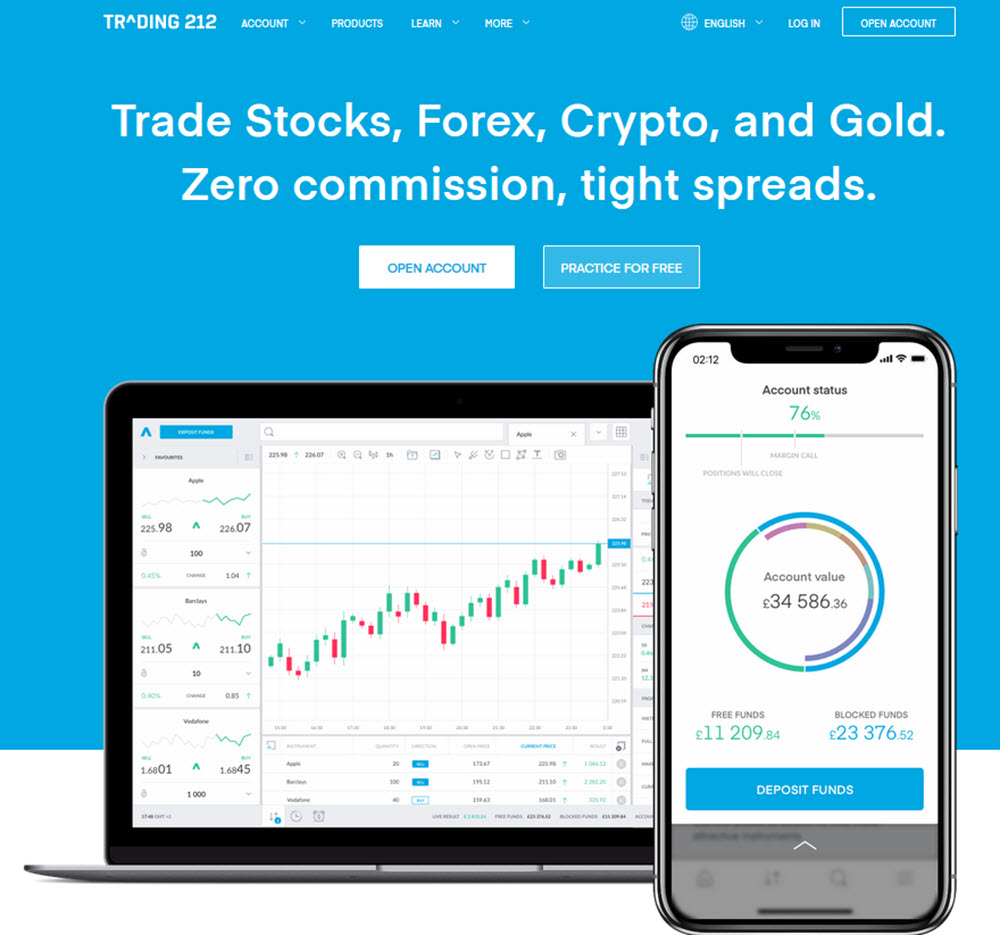 Examples of featured cryptocurrencies are BTC, ETH, LTC, XRP, MON, and DASH.
Trading 212 does not accept United States traders.
Regulation
Trading 212 is run by a London-based corporation and regulated by the Financial Conduct Authority (FCA), a financial regulatory body in the United Kingdom. This means that they have to follow the strict UK regulations.
Trading 212 is also authorized by the Financial Supervision Commission in Bulgaria. Bulgaria is a member of the European Union since 2007, so in the advent of a Brexit, Trading 212 will still have authorisation from a country within the EU.
Background
Trading 212 has its roots in the company Avus Capital, which was founded in Bulgaria.
Short facts about Trading 212
Instruments: Forex, Crypto, Stocks, CFD
Minimum deposit: 100 USD/GBP/EUR
Minimum trade size: 0.01 lot (USD/GBP/EUR)
Mobile apps: Yes, for Android, iOS and Windows Mobile
Demo account: Yes
MT4 integration: No
Auto trading: No
Trade signals: No
Islamic account: No
Trading platform
The trading platform is optimized for mobile devices (smartphones and tablets). Navigation is simple and straightforward, and works excellent even on small screens. This is not a desktop platform adapted for mobile use – it was created for mobile trading right from the get go.
Looking at charts and doing analysis on mobile devices is no problem with Trading 212.
Mobile apps
Trading 212 are offering high-quality bespoke apps for Android and iOS.
The apps offer full functionallity and even allow you to make trades directly from visualisations.
They are among the best trading apps for mobile trading that we have tried.
Can I make a demo account?
Yes you can, and switching back and forth between your demo account and your real-money account is also easy, so you don't have to ditch you demo account once you make a real-money one.
Spreads / Commission / Costs
The spreads tend to be pretty tight at Trading 212, but there are brokers out there who are even tighter.
When it comes to spread, they are more competitive for cryptocurrencies than for other assets.
Trading 212 offers commission-free trading for a wide range of assets, which sets them apart from many other online brokers.
Important: A fee is charged for currency conversion.
Leveraged trading
Leveraged trading is offered by Trading 212.
The exact conditions depend on account type and trade type.
For retail traders ("consumer traders") within the European Union, the leverage is capped at 1:30 and it will be even lower for certain trades, such as cryptocurrency trading.
For professional accounts, except leverage offers up to 1:300.
Transactions
Trading 212 accepts major credit and debit cards, and a long selection of digital wallets. Withdrawing money directly to your bank account is also possible, but there is a minimum withdrawal limit in place for such transactions.
Miscellaneus information
Economic calender available
Succint technical analysis available for each tradable asset
You get free access to daily world news
You get free access to educational materal, such as tutorials and video guides
There is a forum
At the time of writing, Trading 212 is not offering any welcome bonus since the European Union has restricted the use of promotional offers.
Account types
There are two account types: standard acccount and pro account. Most traders have the standard account. You need to fulfill certain requirements to even be considered for a pro account.
With a pro account, you have access to higher leverage, but you will also waive your right to be protected by certain regulatory mechanisms designed to protect retail traders. This means that Trading 212 can't just approve your Pro Account application willy-nilly because they feel like it; they have to take applicable legislation into account, e.g. when it comes to trading experience.
Customer support
The customer support is available around the clock.
Customer support is available in 16 different languages.