At NordFX, you can trade in forex, cryptocurrency, commodities and more. It is possible to start trading with a small 10 USD deposit, which is great for small-scale traders.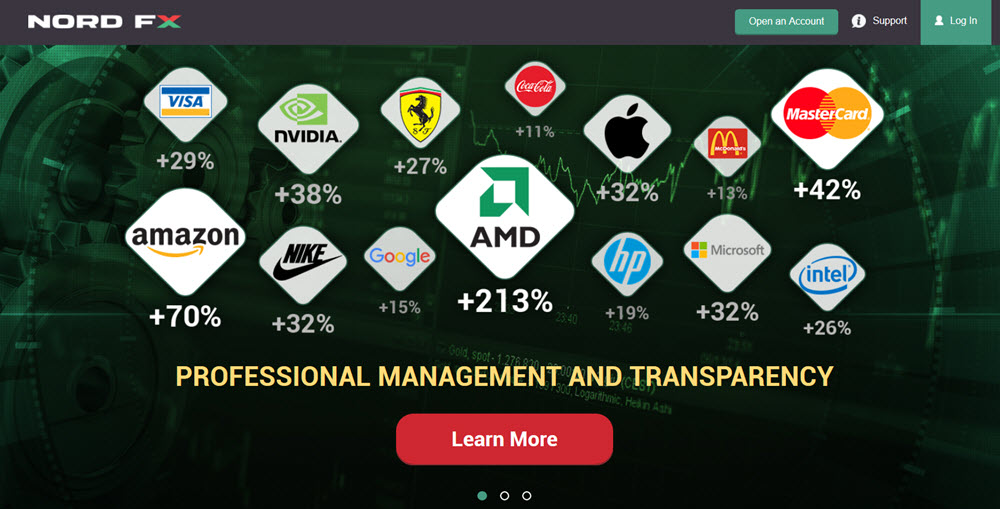 NordFX offers several trading account types, including the Zero account with spread from 0 pips and the Crypto account specially designed for trading in cryptocurrencies. NordFX is acco
Trade in 30+ forex currency pairs and over a dozen cryptocurrencies. Examples of cryptocurrencies that you can trade in here are BTC, BCH, LTC, ETH, DSH, ZEC, BTG, EOS, XRP, ETC, OMG, XMR, NEO, and IOT. You can also make money from 4 cryptocurrency indices. NordFX is according to me one of the best forex brokers if you want to trade cryptocurrencies.
NordFX is a well-established online broker founded back in 2008. At the time of writing, over 1.2 million accounts have been created, and NordFX is used by traders in 100+ countries.
Traders in the United States can not use NordFX.
Regulation
NordFX
NordFX is licensed by the Vanuatu Financial Service Commission (VFSC). Vanuatu is a South Pacific Ocean nation.
NordFX Cy
Traders in the European Union can register with NordFX Cy instead of NordFX. NordFX Cy is licensed by the Cyprus Securities and Exchange Commission (CySEC), is the financial regulatory agency of Cyprus. Cyprus is a EU members, which means that CySEC's financial regulations and operations must comply with the European MiFID financial harmonization law. This gives another layer of legal protection for traders, especially non-professional traders with little trading experience. On the flip side, this protection also comes with rules that cap the available leverage and restricts other ways of trading with borrowed money.
Short facts about NordFX
Instruments: Forex, Cryptocurrency
Minimum depisit: 10 USD
Minimum trade size: 1 USD
Demo account available: Yes
Mobile apps: Yes, for Androidand iOS
MT4 integration: Yes
Auto trading: Yes, via the MT4 platform
Trade signals: Yes, via MetaQuotes at the MT4 platform
Islamic account: No
Accounts
There are several different real-money accounts available at NordFX to cater to various trader types, including everyone from novice hobby traders to professional investors.
Fixed acccount
Zero account, for commission-free trading
Pro Account
Crypto account, specialized in cryptocurrency trading
The minimum required initial deposit vary depending on account type. Spreads also vary.
Can I get a demo account?
Yes, you can. A Nord FX demo account is a great way of learning how everything worksd and try out various trading strategies without losing any real money. The demo account is filled with $10,000 in play-money and creating a demo account is very quick and easy.
Interestingly, Nord FX sometimes arranges demo account contest where you can win real money and other perks without actually having to risk any real money to participate.
Trading platform
NordFX use the well-established MetaTrader 4 (MT4) trading platform. A lot of brokers use MT4 so you might already be familiar with it if you have done online trading in the past.
The interface is easy to learn and use, and there is an aboundance of tools and services available, including automated trading and support for technical analysis.
You need to download the MT4 platform to your computer and install it.
Leverage
Since NordFX is regulated within Vanautu, a jurisdiction that doesn't cap the amount of permissable leverage, they can – and do – offer very high leverage. For some traders and assets, a whopping 1:1000 leverage is available.
If you are within the European Union area, you will be registered with NordFX Cy instead, which means smaller leverage (especially for non-professional traders) since NordFX must comply with Cypriotic and EU regulation to protect traders (especially small-scale and inexperienced ones).
Important: Using leverage is always very risky since you can end up losing more money than you have in your account, and become indebted to the lender. Naturally, using a huge leverage such as 1:1000 is extremely risky and you shouldn't even consider it unless you know for certain you can afford to lose that much money.
Mobile trading apps
There are MetaTrader 4 (MT4) trading apps available for iOS and Android.
Transactions
NordFX accepts major credit/debit cards and several e-wallets. It is also possible to do bank wire transfers.
Customer support
NordFX has five customer support centres and they are locared in India, Sri Lanka, China, Thailand, and Russia.
You can contact the support through phone and live chat. NordFX is also present on major social media platforms and you can get in touch with the support through those channels as well.